SERVICES INCLUDE: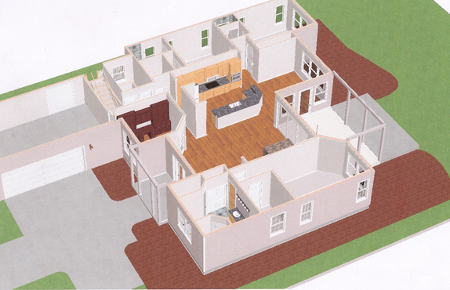 Client meeting to determine need and budget, as well as establish a design program.
Development of schematic floor plans.
Preliminary floor plans and elevations and site plan options. (analysis)
Computer generated 3-D walk through models.
Color rendering and models.
Work with client to make interior and finish selections.
Construction drawings and specifications.
Estimating anticipated costs.
Supervising the bidding process, finding qualified contractors and receiving bids.
Preparation of contract documents.
Obtain permits and approvals.
Supervision of project through the construction phase on behalf of the owner.
Reviewing contractor payment requests.
Quality assurance throughout the project.
Project closeout and final inspection.

ALSO:
Space utilization floor plans.
Retrofit/ change of use for existing buildings.
ADA compliance in existing building.
Both AutoCad and Chief Architect are utilized in project design development as appropriate, providing capability of generating interactive 3-D modeling and video walkthroughs, as well as Powerpoint presentations to sell your project to shareholders, lenders, and local authorities.